VAJRASATTVA RETREAT
Dates: Friday April 30, 2021 (7 - 9 pm)
Saturday May 1, 2021 (5 - 7 pm)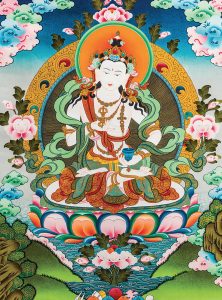 In this retreat, Khen Rinpoche will guide us in the practice of Vajrasattva, the preeminent method for purification of negative deeds and habitual patterns that keep us from our true selves. Through the use of utilizing the Four Opponent Powers, a practitioner will be able dissolves many hindrances. We will be guided through meditation practices which will help us release anxieties of past negativities and affirm our positive attributes and possibilities. The simple yet profound practices of aspirational prayers, meditation and mantra recitation are highly effective ways to develop a more positive view of life leading to greater happiness and peace.
To the Awakening Vajra Meditation Community.
Please be aware that your financial contributions/donations for these precious teachings by Khen Rinpoche Geshe Gyalten provide Awakening Vajra the opportunity to manage, market and coordinate the: 1) developing and supporting of courses and futures teachings, 2) production of books like Mastering Meditation: Calm Abiding and Mahamudra, 3) building projects like Lama Gaun Tashi Rapten Monastery, 4) education of young monks, 5) education of our new H. E. Chöden Rinpoche Tenzin Gyalten and numerous other projects undertaken to advance Tibetan Buddhism in the lineage of H. E. Chöden Rinpoche.
EVENT INFORMATION
Event: Vajrasattva Purification Retreat
Dates:
Friday April 30, 2921 (7 - 9 pm)
Saturday May 1, 2021 (5 - 7 pm)
You are responsible to check for correct time in your country!
REGISTRATION FORM