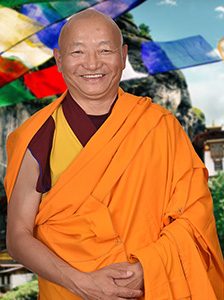 RETREAT OVERVIEW
We spend a third or more of our life sleeping! Although for our physical and mental well-being sleep is extremely important, from a Buddhist practice perspective it can also be utilized for a completely different purpose, a means to awakening to deeper aspects of ourselves. Dream Yoga is a robust and transformative way, one may say a revolutionary means, to delve deeply into the inner workings of the mind. Through careful instructions, Khen Rinpoche will guide students to access and use their dreams to enhance their daily practices and transform their waking lives into richer, more purposeful meaning.
THE RETREAT IS FOR:
Beginning to advance students who either wish to establish or deepen their vajrayana practice for removing obstacles and to become more compassionate, insightful and wise.
RETREAT DATE/TIME
ZOOM CLASS
Friday September 2 and 9, 2022
7:00 p.m. - 9:30 p.m. California, USA time zone
You are responsible to determine the time of class at your location.
TO THE AWAKENING VAJRA MEDITATIONAL COMMUNITY
Your financial contributions/donations for these precious teachings by Khen Rinpoche Geshe Gyalten provide Awakening Vajra the opportunity to manage, market and coordinate the: 1) developing and supporting of courses and futures teachings, 2) production of books like Mastering Meditation: Calm Abiding and Mahamudra, 3) building projects like Lama Gaun Tashi Rapten Monastery, 4) education of young monks, 5) education of our new H. E. Chöden Rinpoche Tenzin Gyalten and numerous other projects undertaken to advance Tibetan Buddhism in the lineage of H. E. Chöden Rinpoche.
PAYMENT OPTIONS
Option 1 Reduced Fee $50.00 (limited income)
Option 2 Regular Fee $75.00
Option 3 Sponsor Fee $100.00 (contribution for people on limited incomes)