Twenty-one Tara Practice Retreat at Lama Gaun Monastery and Kathmandu and Pokhara Pilgrimage Tour
September 20 - 30, 2022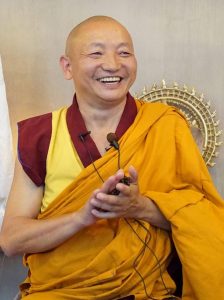 RETREAT OVERVIEW
This is a special opportunity for a beautiful and profound deity yoga teachings and practices to open the heart and mind to the Pure Vision of vajrayana. Tara, in all her aspects, is the source of accomplishment to remove all outer and inner obstacles, both on the mundane and spiritual levels. Through Tara's sadhana practice, in the lineage of H. E. Chöden Rinpoche, and listening to the insightful teachings of Khen Rinpoche a practitioner will achieve swift experiences of stability and clarity of mind. Khen Rinpoche will not only teach the Tara sadhana, but many associate practices to strengthen, nurture and vitalize the practitioner's spiritual growth.
RETREAT DATE/TIME
| | |
| --- | --- |
| September 20 (morning) | Registration (from 10am - noon) |
| September 20 (afternoon) | 21 Taras Initiation |
| September 21-25 | Teachings and Practices Retreat |
| September 25 (late afternoon) | Guru Puja |
Please arrive no later than the 19th of September. Arrangements will be made for transportation from Kathmandu Airport to Lama Gaun Monastery.
September 26th everyone who is not going on the Pilgrimage Tour should plan on leaving for the Kathmandu Airport. (Transportation will be provided at specified times.)
For those people who do not choose to go on Pilgrimage Tour but choose to stay at Lama Gaun cost is $35.00 per day. They must also make their own arrangements to travel to Kathmandu Airport.
SCHEDULE
Lama Gaun 21 Tara Teaching and Practice Schedule (Download PDF)
PILGRIMAGE TOUR OVERVIEW
(Itinerary can change without notice)
Explore Pharping and go to Kathmandu and visit Swayambhu Stupa, Buddha Stupa Parikrama and Thamel.
Travel by private vehicle to Pokhara while there cross Fewa Lake by boat, take 30-45 minute hike and reach Peace Pagoda. Then drive to David Fall, International Medium, and finally visit Tibetan refugee camp.
PILGRIMAGE TOUR DATE/TIME
| | |
| --- | --- |
| September 26 | Pharping & Kathmandu City Pilgrimage Tour (overnight) |
| September 27 | Private vehicle trip to Pokhara (overnight) |
| September 28 | Pokhara City and Area Tour (overnight) |
| September 29 | Private vehicle trip Kathmandu (back to Lama Gaun) |
| September 30 | Lama Gaun Farewell Ceremony (Tsok morning)/Departure from Nepal |
Excluded from costs are any entrance fees, lunch and dinner meals. Also excluded are individual taxi service to airport.
* For those people who chose to schedule their departures on the 30th there is an additional lodging fee of 35.00.
If people leave after September 30th, they are responsible to find their own transportation to the Kathmandu Airport.



Cost (US Dollars) - Lama Gaun Monastery
21 Tara Retreat
$450.00

21 Tara Retreat and Pilgrimage
$700.00

Pay with a credit card